Beach of Balneário Camboriú (Brazil) enlarged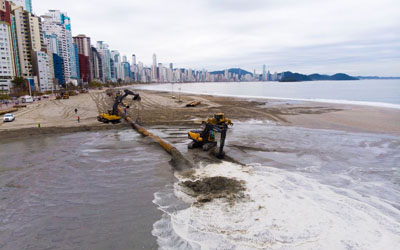 Beach replenishment at Balneário Camboriú
(credit City Hall of Balneário Camboriú Divulgação)

On 22 August 2021, as part of a large beach replenishment, the first load of sand was brought by Jan De Nul Group's trailing suction hopper dredger (TSHD) Galileo Galilei to the beach of Balneário Camboriú.


The seaside resort Balneário Camboriú lies in the state of Santa Catarina in southern Brazil and is one of the most popular tourist destinations in the country.
The replenishment project consists of widening the resort's Central Beach (Praia Central) from 25 to 70 meters over a length of 5,8 kilometers.
This operation is requiring some 2,2 million m3 of sand that is dredged at sea in a previously identified and licensed borrow area.
This will both increase the protection level against the tides of the Atlantic Ocean, as well as create more space for leisure activities on the beach.


The project is being carried out by a consortium of Jan De Nul Group and the Brazilian company DTA Engenharia for the account of the Municipality of Balneário Camboriú.
The final load of sand was delivered on Sunday 31 October 2021, after which the demobilisation phase was started.
During the upcoming summer season, the city of Balneário Camboriú and its tourists will be able to enjoy the widened beach.

Built and commissioned in 2020, the Galileo Galilei is one of Jan De Nul Group's newest dredgers.
It has a hopper capacity of 18.000 m3 and a total installed diesel power of 22.644 kW.
For shore delivery it has a pump power of 14.000 kW.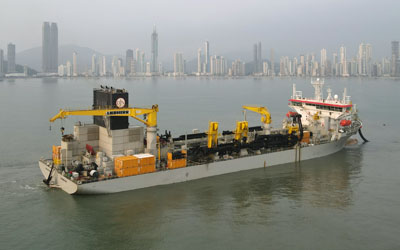 The Galileo Galilei pumping ashore
(credit Jan De Nul Group)

The vessel's revolutionary design combines a large loading capacity with a limited loaded draught of only 9,75 meters, which makes the dredger highly suitable to operate in shallow water conditions such as near the coast.
Also special about the Galileo Galilei is the fact that it has two separated hoppers.
This allows the dredged material to be spread evenly over both hoppers, thus optimally controlling the load and the draught.
The beach replenishment at Balneário Camboriú is the first major project for the Galileo Galilei.



Sources:
Prefeitura Balneário Camboriú - Piping Removal, 9 November 2021.
Jan De Nul Group, 21 January 2021.