DEME completes new port approaches in Durban, 31 March 2010
---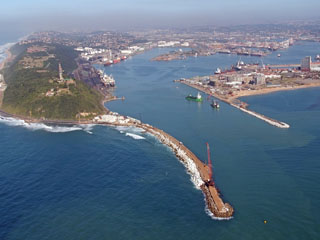 After almost three years, the Belgian dredging and hydraulic engineering group DEME has completed a major port upgrading programme in Durban, South Africa.
The project was the biggest of its kind on the African continent.
It may be compared to other port construction projects which DEME executes or finished in recent years, such as in Dhamra (India), Sepetiba (Brazil), Le Havre (France) and recently London Gateway (UK).
Besides the involvement of up to 150 staff and crew from Dredging International, DEME also assigned no less than four trailing hoppers and a dipper pontoon for the works in Durban.

Durban is located at the east coast of South Africa, bordering the Indian Ocean.
It is the busiest port in sub-Sahara Africa.
The port upgrade works were tendered by TRANSNET and executed by a joint-venture which included the local civilian contractor Group Five.
Dredging International was the managing partner of the consortium.
The total contract value is € 220 million; the DEME part in the contract amounts to € 90 million.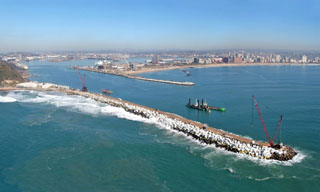 A northern and southern breakwater of resp. 500 m and 800 m protect the port of Durban.
The northern breakwater had to be demolished and rebuilt some 100 m further down; the southern breakwater was strengthened.
These preliminary works allowed for the port entrance channel to be widened from 120 m to 220 m, and to be deepened from the previous 12,8 m to 19 m in the outer channel and 17 m in the inner port.
As a consequence, it will be possible for the future generation of ships, container vessels up to 9,400 TEU and vessels of equivalent size, to call at Durban port.
A total of more than 10 million m³ had to be dredged, a part of which was used for the foundation and the reinforcement of the breakwaters.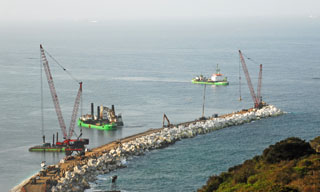 Up to 850 men and women were committed, including 150 staff and crew from DEME operating company Dredging International.
Besides the mega dipper Pinocchio and the two split barges DI 68 and DI 69, DEME assigned no less than four trailing suction hopper dredgers: the TSHD's Marieke, Krankeloon, Orwell and Pallieter.
Since the stone dumping vessel Pompei was unavailable due to hijacking by Somali pirates, stone dumping operations were executed by using a split barge, a customized platform (in fact an adapted spud-pontoon), and a cable crane operating from the shore.
The port upgrading and modernization in Durban was an outstanding example of a multidisciplinary approach: dredging, beach nourishment, reconstruction of the second breakwater, demolition of several quay walls and the removal of ship wrecks in the approach channel (a.o. clearing and cutting a huge wrecked ship in the outer channel).
It was specifically characteristic for this project that this one assignment led to securing several other contracts: the maintenance dredging in all South African ports between 2007 and 2011; the maintenance dredging in neighbouring countries such as Mozambique and Namibia; and a beach nourishment on behalf of the city of Durban.
In view of the upcoming World Cup Football and the tourist promotion of the city of Durban, Dredging International will yet again carry out an extra beach nourishment – anticipated for April 2010.

Source: DEME, March 2010