IHC Easydredge type hopper dredgers delivered to Central and South America
Since the introduction of the IHC Easydredge type standard hopper dredger in 2014, Royal IHC has delivered several units of this range around the world.
A large part has been handed over to clients in Central and South America.

The Mario Oliva Pérez leaving for trials

In 2015, the first unit built by IHC, an Easydredge 2700 with a hopper capacity of 2.700 m3 was acquiered by the Argentine company Dragados Argentinas Dasa SA.
After its arrival in Argentina in 2017, the DASA I, as this dredger has been named, has succesfully carried out dredging operations, amongst other in Buenos Aires, La Plata, Santa Fe and San Pedro.

An Easydredge 3700 type, named Mario Oliva Pérez, was delivered in 2019 to Obras Marítimas del Ministerio de Construcción (MICONS) of Cuba.
Operated on behalf of MICONS by Empresa Constructora Obras Marítimas (EOMARIT), the Mario Oliva Pérez has amongst other played an important role in the replenishment of beaches at Varadero, Cayo Blanco, Cayo Coco and Cayo Paredón Grande on Cuba's northern coast.
Here, the coastline has been severely affected by Hurricane Irma in September 2017, which has resulted in strong erosion of the beaches.
The Cuban goverment has set up a national program, aimed at the recovery of sandy beaches and which is scheduled to take until 2030.

An Easydredge 700 type, named the IMA, was delivered to the Peruvian company Concesionaria Hidrovía Amazónica SA (Cohidro) in 2021.
Royal IHC has had this dredger built at Rio Maguari Shipyard in Belem (Brazil).
In 2017, the Peruvian State granted a concession of 20 years to Cohidro comprising the operation and maintenance of the navigational waterways in the Peruvian Amazon region.
This mostly covers the four main rivers of Peru: Amazonas, Huallaga, Marañón and Ucayali.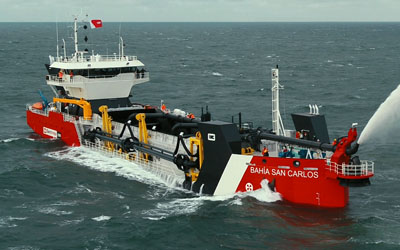 The Bahia San Carlos performing trials

Most recently, Royal IHC has delivered the Easydredge 2700 type trailing suction hopper dredger (TSHD) Bahia San Carlos to the Mexican Navy, i.e. Secretaría de Marina (SEMAR).
After successful sea trials on the North Sea in October 2021, the dredger sailed to the port of Veracruz in Mexico where it was delivered the 16th of December.
The Bahia San Carlos will be deployed on a national maintenance programme.
This includes deepening rivers on the country's east coast, which will help to prevent flooding in the States of Tabasco and Veracruz.

Royal IHC's Easydredge concept comprises four types of hopper dredgers ranging from 500 to 4.000 m3.


Main characteristics of the IMA:
| | | |
| --- | --- | --- |
| Hopper capacity: | 500 | m3 |
| Length: | 49,4 | m |
| Max. draught: | 3,5 | m |
| Speed: | 9,0 | kn |
| Suction pipe: | 1 x 400 | mm |
| Dredging depth: | 15,0 | m |
Main characteristics of the Bahia San Carlos:
| | | |
| --- | --- | --- |
| Hopper capacity: | 2.700 | m3 |
| Length: | 81,8 | m |
| Max. draught: | 5,0 | m |
| Speed: | 11,0 | kn |
| Suction pipe: | 1 x 700 | mm |
| Dredging depth: | 25,0 | m |
Sources:
Dragados Argentinas Dasa SA Concesionaria Hidrovía Amazónica SA (Cohidro) Royal IHC