Flemish coast replenishment program in progress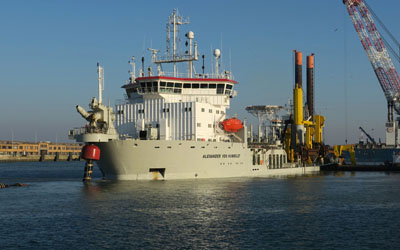 The Alexander Von Humboldt pumping ashore in the port of Ostend

Many sandy coastal areas worldwide are subject to erosion and are also threatened by sea level rise.
The 66 km long Flemish coast in Belgium is no exception and regular maintenance is required to keep the coast at a sufficiently safe level.
The Flemish Agency for Maritime Services and Coast (Agentschap voor Maritieme Dienstverlening en Kust - MDK) is responsible for the Belgian coast and has established a program of beach replenishments that will be carried out in 2022 and in the spring of 2023.
This program provides for the implementation of replenishments at five locations along the coast: Wenduine, De Haan Centrum, De Haan Vosseslag, Ostend and Koksijde.

The largest replenishment is that of Ostend, which consists of applying approximately 600,000 m3 of sand on the beach between the Zeeheldenplein and Mariakerke, a strip of approximately 2.7 km.
This project was awarded by MDK to Jan De Nul Group and was carried out between mid-February and the end of March 2022.
For this project, Jan De Nul Group has deployed its 9,000 m3 trailing suction hopper dredger (TSHD) Alexander Von Humboldt.
The required sand was dredged by the Alexander Von Humboldt at sea in an extraction area at about 50 km from the coast and was pumped to the beach from a floating coupling point in the port of Ostend.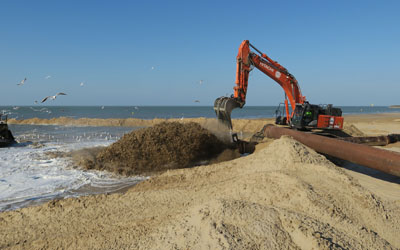 Beach replenishment at Ostend

As part of the aim to carry out its projects in the most sustainable way, as well as to limit CO2 emissions as much as possible, Jan De Nul Group has chosen to have the dredgers that are deployed on coastal protection works in Belgium run entirely on 100% drop-in bio fuel.
This was first applied on the replenishment projects of Knokke and Raversijde in 2021 and as this policy is scheduled to be continued in the future, has also been applied on the Ostend replenishment.
The use of 100% sustainable bio fuel by the Alexander Von Humboldt has resulted in 90% less CO2 emissions on this project.
Furthermore, on the beach itself, exhaust filter systems on the earthmoving equipment, such as bulldozers, hydraulic cranes and shovels, reduced the emissions of fine dust and nitrogen by 80%.

More or less simultaneously with the works in Ostend, the replenishment at Koksijde, comprising the placement of approx. 233,000 m3 of sand on the beach, was carried out. This project has been awarded by MDK to DC Industrial (DCI), which is part of Group De Cloedt.
For this project, DCI has deployed its TSHDs DC Ostend (hopper capacity 2,794 m3) and Rio (hopper capacity 2,504 m3).

Mid-March, the replenishment of De Haan Vosseslag has started.
This project, comprising the placement of 315,000 m3 of sand on the beach, is scheduled to be completed by the end of April 2022.
It is being carried out by DEME Group with its 5,230 m3 TSHD Pallieter.

The fourth replenishment, with some 239,000 m3 of sand, will be carried out during April 2022 on the beach of Wenduine.
Finally, by the end of 2022 or the beginning of 2023, a replenishment at De Haan Centre is scheduled to be carried out.


Sources:
Agency for Maritime Services and Coast (Agentschap voor Maritieme Dienstverlening en Kust - MDK) Jan De Nul Group