TenneT offshore cables installed by Van Oord

The WID Maas preparing the seabed

During the summer of 2021, marine contractor Van Oord has installed two offshore cables in the North Sea off the coast of the Dutch province South-Holland (Zuid-Holland).
The cables have been installed for the account of the European electricity transmission system operator (TSO) TenneT.
The cables are part of the Hollandse Kust Zuid (HKZ) Wind Farm project.
The wind farm itself is being built by energy company Vattenfall, but in 2014, the Dutch government has designated TenneT as offshore grid operator on the Dutch part of the North Sea.
As such, TenneT is responsible for connecting wind farms to the onshore national high voltage network, as well as the further distribution of the electricity.

The two new cables connect HKZ's 700 MW offshore substation Beta with a new transformator station on the Maasvlakte in the port of Rotterdam, covering a distance of approx. 35 km.
At the transformator station, the electric current is transformed from 220 kV to 380 kV and a such delivered to a high voltage station and from there to the onshore grid.

Just north of the Maasvlakte, the cables have to cross the 'Maasgeul', the deep water access channel to the port of Rotterdam with a depth of over 23 meter.
For security reasons at this crossing, the cables need to be buried at 5.5 meter below the seabed over a distance of 10km.
For this operation, Van Oord has used it's purpose built Tracked Remotely Operated Vehicle (TROV) 'Deep Dig-It'.
With this underwater robot, the entire operation can be executed, consisting of digging the trench, installing the cables and closing the trench.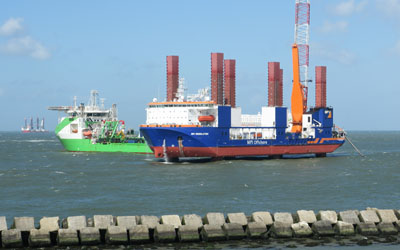 The MPI Resolution and the Flintstone carrying out cable installation

The 'Deep Dig-It' was operated from the offshore installation vessel MPI Resolution of Van Oord's dedicated subsidiary MPI Offshore.
The aluminium cables, each weighing about 100 kilograms per meter, were fed to the 'Deep Dig-It' from the cable laying vessel Flintstone, which was chartered from DEME Group's subsidiary Tideway.

For this project, Van Oord has also deployed several dredgers.
Previous to the cable installation, one of Van Oord's new water injection dredgers (WID), the Maas, and the trailing suction hopper dredger (TSHD) Shoalway, chartered form Boskalis, have been used for seabed preparation.
Once the cable laying operation was completed, the TSHD HAM 317 was used for sand placement.

In total, now four cables connect the HKZ wind farm to the shore.
Already in September 2020, Van Oord had carried out a similar operation with the installation of two cables for the connection of HKZ's substation Alpha.
During this operation the MPI Resolution was also used, but the cables were fed to the 'Deep Dig-It' by Van Oord's cable laying vessel Nexus.

The 2 x 700 MW grid connection will be completed in 2022 and will enable the provision of electricity for some 1.6 million households once the HKZ wind farm is fully operational in 2023.

Sources:
Tennet
Net op zee
Van Oord MPI Offshore