Naming and launch ceremony of state-of-the-art cutter suction dredger 'Al Sakab'
---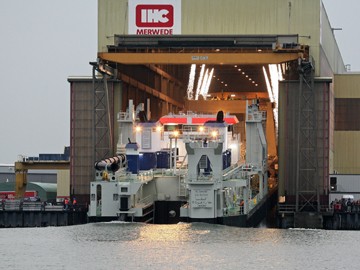 The naming and launch ceremony of the 16,500 kW stationary cutter suction dredger 'Al Sakab' took place at the IHC Merwede yard in Sliedrecht, The Netherlands on Monday 5 October 2009.
The ship is being built for Huta Marine Works Ltd, Kingdom of Saudi Arabia.
The ceremony was conducted by Britta and Sylvia Wuebbens, the daughters of Mr M. Wuebbens, Managing Director of Huta Marine Works Ltd.
According to the islam, rose water instead of champagne was used for the naming ceremony.
The ship is named after the first horse Prophet Mohammad ever purchased, it means "smooth, swift like the flow of running water".

IHC Merwede and Huta Marine Works signed the contract in early 2007 for the design, construction and delivery of the 'Al Sakab'.
The keel of the 'Al Sakab' was laid on 19 December 2008. The 'Al Sakab' is the first ever to be custom-built for Huta Marine Works Ltd.
It will be commissioned and added to the fleet in Jeddah early in 2010.
The 'Al Sakab' is a single-pontoon cutter suction dredger with a cutter ladder for a maximum dredging depth of 25m.
The cutter special dredge pumps installed in the ladder and on board guarantee fast dredging cycles.
The rock/soil are discharged to shore through a floating line at the aft of the vessel line or through the barge loading system on the sides of the vessel.

The dredger is held in position during dredging by a spud, about which it swings using anchors positioned on either side forward of the dredger.
Forward motion is achieved with a hydraulically powered spud carriage situated at the aft end of the pontoon.
The complete dredging cycle can be performed in automatic mode for ease of operation.
A travelling crane has been installed on deck for access to all major parts on board.
The 'Al Sakab' was built to Bureau Veritas rules and regulations.
Huta Marine Works
Huta Marine Works Ltd. has established itself as the leading Marine Contractor in Saudi Arabia.
With more than 6,000 employees and a fleet exceeding 90 marine construction vessels Huta Marine covers the entire scope of marine civil engineering and dredging activities required for civil, commercial and industrial marine infrastructure works.
Huta Marine currently operates a fleet of 11 Cutter Suction Dredgers with from 4,000 to 22,000 HP with a production capacity of 30 to 40 million m³/year.
They are capable of dredging the hardest rock that may be encountered in the Middle East.


Source: IHC Merwede, October 2009