IHC Merwede secures orders worth € 350 million
---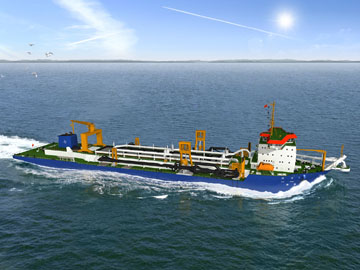 IHC Merwede has been successful in securing orders worth € 350 million for a wide range of dredging and offshore vessels and equipment.
The company's Dredging division has confirmed new contracts for the delivery of a large custom-built trailing suction hopper dredger, 13 units that will be supplied by IHC Beaver Dredgers and a cutter suction dredger training simulator.
The Offshore division has also announced orders for the construction of a 300-tonne pipelaying vessel, as well as a J-Lay pipelaying system and a tandem mooring system.

In the Dredging division, IHC Merwede will soon start constructing the largest trailing suction hopper dredger it has ever produced for a Chinese customer, CCCC Guangzhou Dredging Company (GDC).
It has selected IHC Merwede as its preferred supplier, which offers the best possible solutions in the market.
This latest addition to GDC's dredging fleet will be built at a Dutch shipyard, despite the fact that it is based in a country with an in-depth knowledge of the field of shipbuilding.

The new ship will be the flagship of the Chinese dredging fleet.
Not only by its size with a hopper capacity of 21.000 m3, but also because of the drives, the ship will be distinguishing.
The vessel will be executed with two suction pipes each with electrically driven submerged pump which enable higher dredge density at deeper dredging depths.
For discharging the hopper load to the shore also two electrically driven inboard dredge pumps are installed, power each 5800 kW.
Both the submerged dredge pumps as well as the inboard discharge pumps have speed control by means of frequency drives. The maximum design dredging depth of the two trailing suction pipes is 60 m.
Furthermore the SB trailing suction pipe can be lengthened to reach a maximum dredging depth of 90 m.

The general particulars are as follows:
| | | |
| --- | --- | --- |
| Hopper cpacity: | 21.000 | kW |
| Length o.a.: | 168,0 | m |
| Width: | 31,0 | m |
| Draught: | 11,0 | m |
| Speed: | 16,0 | kn |
| Dredging depth: | 60,0 | m |
The remaining 13 dredging vessels consist of 11 standard IHC Beaver® cutter suction dredgers, a Delta Multi Craft standard work boat and a booster station.
IHC Merwede's policy is to deliver standard vessels and equipment from stock, so it is able to meet the demand for short delivery times in this market.
In addition, Huta Marine Works has commissioned IHC Merwede to develop and supply a cutter suction dredger training simulator.
This will accompany the delivery of the previously ordered custom-built cutter suction dredger, which is currently under construction at the IHC Merwede yard in Kinderdijk.
Huta Marine Works will use the simulator in training courses for operators of the latest cutter suction dredgers in its fleet and this will include the technical capability to incorporate future vessels.
In the Offshore division, the 300-tonne pipelaying vessel ordered by Sapura Navegação Marítima will be delivered with a pipelay spread supplied by IHC Engineering Business.
This ship will install flexible pipelines in Brazilian waters, pursuant to Petrobras' contracts for the charter and operation of pipelaying support vessels, previously awarded to Sapura Navegação Marítima.
An additional offshore order from Petrofac includes the design and construction of a 2,000- tonne capacity J-Lay pipelaying system.
This will be installed on a new deep-water construction vessel in 2016 to lay 36-inch diameter pipe in water depths of up to 3,000 metres.
Source: IHC Merwede, 5 February 2014