Trailing Suction Hopper Dredger Leiv Eiriksson launched on 4 September 2009
---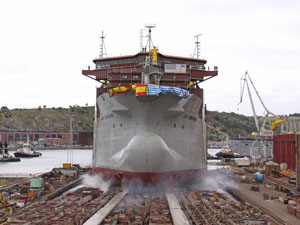 Twelve months after the keel laying of the trailing suction hopper dredger 'Leiv Eiriksson' at the shipyard Construcciones Navales del Norte in Sestao (Spain), the vessel was launched on 4 September 2009.

This mega hopper with a capacity of 46,000 m3 is the twin vessel of the 'Cristóbal Colón'.
The vessel is equipped with two suction pipes, with a diameter of 1,300 mm, with electrically driven underwater dredge pumps, with a power of 6,500 kW each, enabling dredging down to water depths of 155 m.
Discharging is possible by means of two electrically driven shore discharging dredge pumps, with each 8,000 kW power.
Fully loaded, carrying up to 78,500 tons of sand, the 'Leiv Eiriksson' will sail at a speed of 18 knots.
All this results in a very performant vessel, offering an economic solution for the execution of major dredging and land reclamation jobs.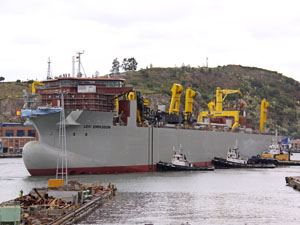 The naming was performed by Mrs. Annita Boel, wife of Mr. Géry Vandewalle, Director.
Instead of the traditional bottle of Champagne, a bottle of red wine was used, which is customary in this region of North Spain.
After the launching, the ship was moored at the outfitting quay of the shipyard, for further completion.
Early 2010 it will join the fleet of Jan De Nul Group, which will then include the two largest hopper dredgers in the world and shall become the largest fleet of hopper dredgers in the world.

The 'Leiv Eiriksson' is the 7th vessel built for Jan De Nul Group on the 'La Naval' shipyard in Sestao.
Earlier, the TSHD's 'Kaishuu', 'Juan Sebastián de Elcano', 'Filippo Brunelleschi', 'Francis Beaufort', the sister vessel 'Cristóbal Colón' and the fall pipe and mining vessel 'Simon Stevin' were launched.
The next ship to be built in Sestao is the 'JDN8035', a suction hopper dredger with a capacity of 30,500 m³.

Source: Jan De Nul Group, September 2009