Extension of concession contract for Jan De Nul NV in Argentina - keep a 1300 km long river navigable
---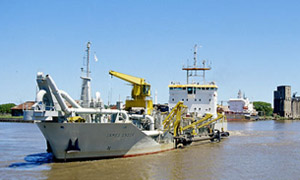 On January 21 the Argentine President signed the decree that extends the concession contract of Jan De Nul in Argentina for another eight years.

Under the emergency law all concession contracts in Argentina, including the dredging contract of Jan De Nul were scrutinized and where necessary revised.
After a long negotiation Jan De Nul at the end of last year obtained the final approval from the Ministry of Economy and that of Planning, Public Investments and Services for the extension of its concession contract in Argentina.

In 1994 after years of difficult navigation due to deficient maintenance, the Argentine government invited bids for the dredging and signalization of the Parana River and River Plate under the form of a concession contract for a period of ten years with an option for another ten years.
The concession included the deepening and maintenance of the fairway at a depth of 32 ft and the installation of an international signalization system.

In 1995 Jan De Nul and its Argentine partner Emepa were awarded the concession.
Together they operate the concession company Hidrovia SA that presently maintains the fairway and the signalization of the Parana River and Plate River between Santa Fe and the Atlantic Ocean over a distance of 800 km.
The concession is unique in the sense that a private company maintains the navigational depth and collects toll from the ships that navigate the fairway.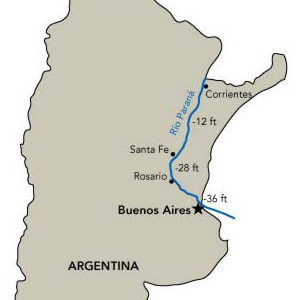 The concession was a first time extended to the year 2013 and the fairway deepened to 34 ft.
The maintenance of the fairway involves three to four dredges, various survey vessels and special purpose vessels for the maintenance of the signalization system.

Under the new extension into the year 2021, Jan De Nul will have to deepen the stretch between Rosario and the Ocean to a depth of 36 ft and the stretch between Santa Fe and Rosario to 28 ft.
The deepening will take approximately two years and will involve two extra dredges.

Also a new stretch to the North over a length of 600 km between Santa Fe and Corrientes is now added to the concession.
This section is particularly important since it will allow agrarian products from the Northern provinces to be transported more efficiently by barges to the ports along the Parana River.
This section will be dredged and maintained at a depth of 12 ft and the signalization upgraded to the international standard IALA in order to allow barge traffic throughout the year.

By the extension of its concession contract, Jan De Nul strengthens its position in Argentina and in the whole of South America due to its continuous presence in the area.

Source: Jan De Nul Group, January 2010