DEME takes most powerful offshore installation vessel Orion into service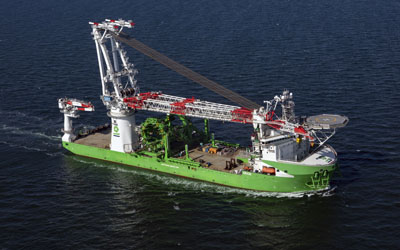 Credit DEME group

Although not a dredger, DEME Group's new offshore installation vessel Orion is so impressive that it is worth paying attention to.
The official name giving ceremony of this 216.5 meter long ship took place on 29 April 2022 at DEME's Offshore Base in the port of Vlissingen Oost (The Netherlands).
The Orion has been built at the shipyard of COSCO Shipping (Qidong) Offshore Co. in China.

It is equipped with a giant 5,000 tonnes Liebherr HLC 295000 crane which has been installed at Liebherr's facilities in Rostock (Germany).
With this crane, the Orion is the first installation vessel that is capable of installing the large and heavy mono-piles that serve as foundation for the newest generation of offshore wind turbines.
The size of these turbines have increased enormously over the past years, at present units of 15 MW are no exception and already plans have been made for offshore wind mill farms with turbines of 20 MW. With the growth in size of the turbines, the required foundation has also increased in size, while recently mono-piles of approx. 600 tonnes were common, for the new generation of wind mills they can be as heavy as 2,000 tonnes.
But, the Liebherr crane of the Orion is not only capable to handle giant mono-piles with respect to their weight, also with respect to their length, with this crane the Orion is able to install piles up to a length of approx. 95 meter.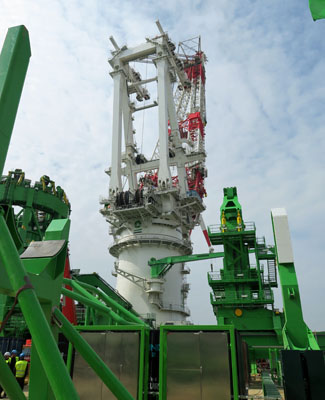 The Liebherr HLC 295000 crane of the Orion

Installing foundations for offshore wind turbines requires absolute stability as well as accuracy in position of the installation vessel.
Traditionally, this type of ships is equipped with a constellation of four or six spud poles, however making use of these is a time consuming process and it requires an elaborate soil investigation to guarantee stability.
Furthermore, their use is limits the operational depth.
The Orion is not equipped with spuds, but has a combination of innovative techniques to allow for a accurate installation of the mono-piles.
At first, it has been designed and built as a DP3 vessel, DP3 is highest level of Dynamic Positioning as defined by the IMO.
On top of that, the vessel is equipped with a so-called Motion Compensated Power Gripper (MCPG), which is able to compensate for the slightest movement whether it be horizontal, vertical, rotating or any combination of that.
The DP3 feature and the MCPG work as a integrated system, the first taking care of a accuracy of 0.5 meter and the second refining that to virtually zero.


With respect to sustainability, the Orion is equipped with dual fuel engines that can run both on Marine Gas Oil (MGO) as well as on Liquefied Natural Gas (LNG).
The four main engines are of the type Wartsila 9L46 that each have a rated power of approx.11,000 kW, including the auxiliary engines, the Orion has a total installed power of 44,190 kW.


After the name giving ceremony, The Orion will first be deployed on a offshore wind project in the Baltic Sea.
Subsequently, it will sail to the United States for projects off the coast of Massachusetts and Virginia, respectively for the accounts of a joint venture of Copenhagen Infrastructure Partners (CIP) and Iberdrola and Dominion Energy.

Sources:
DEME Group