Spartacus, world's largest CSD, handed over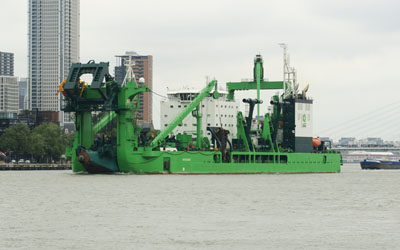 The Spartacus on it's way to the Maasvlakte, 28 July 2021

After having successfully completed its final dredging trials, the self-propelled cutter suction dredger (CSD) Spartacus has been handed over by its builder Royal IHC to its new owner, DEME Group.
The Spartacus left IHC's shipyard in Krimpen aan den IJssel on 28 July 2021 to perform its final dredging trial program of a week in the Maasvlakte area of the port of Rotterdam.
Here, the handover ceremony took place on the 3rd of August.
One day later, the new dredger set sail to the port of Vlissingen Oost (the Netherlands) to be prepared for its first deployment.


With 44.180 kW total installed power, the Spartacus is currently the most powerful CSD in the world and as such capable of handling the most challenging materials, including hard rock.


The dredger has been built according to an eco-friendly and innovative design.
Its four main engines as well as its two auxiliary engines are of the dual-fuel type and can run on both traditional fuels, like MDO and HFO, as well as on liquefied natural gas (LNG).
The Spartacus is the first dredger of its type to be able to run on LNG.
It also has a waste heat recovery system that converts heat from the exhaust gases into electrical energy.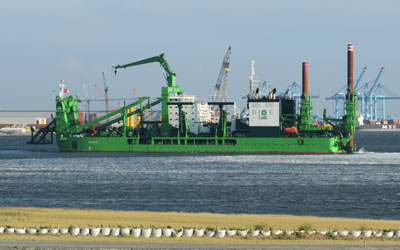 The Spartacus carrying out dredging trials, 29 July 2021

The new dredger is able to dredge to a record breaking depth of 45 m.
There are also several innovations to maximise productivity, including an on board workshop with a vibration-insulated floor, which makes it possible to carry out the maintenance and repair of the cutterheads during operations.
This enables the dredger to achieve unequalled uptime and is a major advantage when working in remote parts of the world.

For its first assignment, the Spartacus is scheduled to set sail to Egypt for deployment on the Abu Qir project.
This is a vast greenfield project, which includes the reclamation of 1.000 hectares of new land, the deepening of the port's approach channel to 23 m and the dredging of a turning basin to 22 m.

Main characteristics of the Spartacus:
| | | |
| --- | --- | --- |
| Total installed power: | 44.180 | kW |
| Length o.a.: | 164,0 | m |
| Breadth: | 34,0 | m |
| Suction pipe: | 1 x 1.200 | mm |
| Dredging depth: | 45,0 | m |
Sources:
Royal IHC, 4 August 2021.