Her Majesty Queen Máxima christens trailing suction hopper dredger Vox Amalia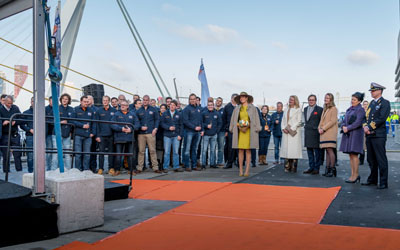 Queen Máxima performs the christening ceremony

On 14 December 2018, the naming ceremony took place of Van Oord's latest trailing suction hopper dredger (TSHD) along the Holland Amerika Quay next to the Cruise Terminal in the centre of Rotterdam.
The Vox Amalia has been named after the first daughter of Her Majesty Queen Máxima.
It was Her Majesty Queen Máxima herself who performed the naming ceremony.

The Vox Amalia is a large TSHD with a hopper capacity of approx. 18.000 m3, a length of 158 meter and a width of 36 meter.
It has specially been designed and built to be able to handle not only sand and silt, but also hard and cohesive materials, which have always constituted a big challenge for TSHDs.


The new dredger was built in Spain under Van Oord's supervision.
After the name giving ceremony the Vox Amalia has been brought to the shipyard of Damen Shiprepair Rotterdam for fitting-out works.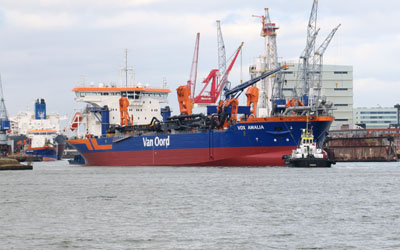 The Vox Amalia at the shipyard of Damen Shiprepair Rotterdam

For Van Oord, 2018 has been a very special year, not only it celebrated its 150 years of existence, it was also granted the predicate 'Royal'.
Also in 2018, Van Oord has commissioned the LNG-powered grab hopper dredger Werkendam and the Subsea Rock Installation (SRI) vessel Bravenes.

Sources:
Van Oord, 14 December 2018