New Rohde Nielsen dredgers at work in The Netherlands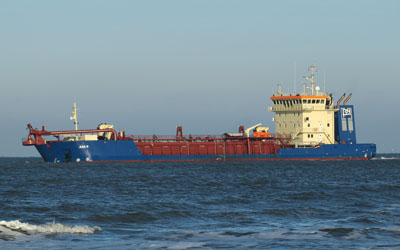 The Ask R placing sand on the Vlieland coast

In 2021, dredging and offshore contractor Rohde Nielsen from Danmark has commissioned two new trailing suction hopper dredgers (TSHDs) with a hopper capacity of 2,700m3, the Ask R and the Embla R.
Immediately after their commissioning, both dredgers have mainly been carrying out dredging activities in their homeland Danmark.
But in August 2021, thay have started on their first major project in The Netherlands, a coastal protection project at the northern coast of the Wadden island Vlieland.

This project, carried out under the responsibility of Rijkswaterstaat (part of the Dutch Ministry of Infrastructure and Water Management), consists of a foreshore sand replenishment at a depth of about NAP - 5 meter, some hundred meters from the shore.

Just north of the shore of the island, strong lateral currents have a tendency to transport sand from the sea bottom towards the Wadden Sea, having an eroding impact on the foreshore and creating a local sand deficit.
To restore the sand balance that is disrupted by this phenomenon, a replenishment once every few years is necesarry.


Until the end of 2021, Rohde Nielsen's TSHDs have placed some 1,6 million m3 of sand on Vlieland's northern coast.
The sand has been dredged at a borrow area in the North Sea, at a distance of approx. 15 km.
The lion's part has been done by the Ask R and the Embla R, but in December 2021 they were joined by Rohde Nielsen 6,000 m3 hopper dredger Njord R that had just completed a beach replenishment near Schouwen in the Dutch province Zeeland, also for Rijkswaterstaat.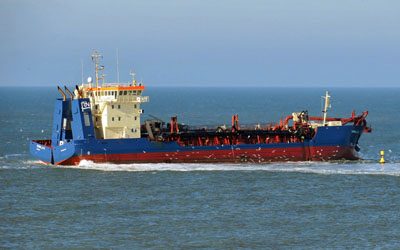 The Embla R in action

The Ask R and the Embla R are identical hopper dredgers of the split hull type.
They have a length of 85.4 meter and are equipped with several evironmental friendly features, including a Siemens BlueDrive Plus C system, a Selective Catalytic Reduction (SCR) system and fine particle filters.
These systems enable the vessels to operate with very low emmissions.
The split hull hopper and a very low loaded draught of less than 5 meter make them extremely suitable for nearshore operations, such as the Vlieland project.
Their standard dredging depth is 32 meter, but with a extended suction pipe equipped with a submerged pump, they can reach a depth of approx. 52 meters.
With a hopper capacity of 2,700 m3, they fit well into Rohde Nielsen's hopper dredging fleet consisting of two medium size 6,000 vessels, the Balder R and the Njord R, and several smaller units, ranging from the 535 m3 Toste R to the 2,507 m3 Thor R.

Sources:
Rijkswaterstaat In Dutch
Rohde Nielsen