TSHD Vox Ariane delivered by Keppel to Van Oord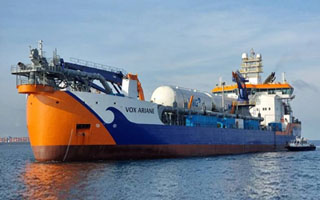 Keppel Offshore & Marine (Keppel O&M) in Singapore has delivered the 10.500 m3 trailing suction hopper dredger (TSHD) Vox Ariane.
This new dredger is the first of a series of three identical units that Keppel O&M is building for marine contractor Van Oord from The Netherlands.
The second unit carries the name Vox Apolonia and the third one is named Vox Alexia.


These dredgers are of the dual-fuel type, their main engines can run both on Marine Gas Oil (MGO) as well as on Liquefied Natural Gas (LNG).
The Vox Ariane has a total installed power of 14.500 kW and is equipped with a suction pipe fitted with a submersible electric driven dredge pump and with two onboard shore delivery dredge pumps.